Little Black Fly on the Wall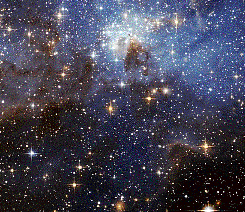 The little black fly on the wall doesn't stop to
think what he knows, those
multiple eyes are enough. God's
sight through them shows him the world.
Birds don't think, "Fly or soar as I
      might, I'm only a bird in a
         bird's world, one
      eye on each side of my head, my
            limited universe not
                 enough!"
The worm in the sod blind as
death, pushing through darkness it may not
see, does it think
"I wish I could stand
on two legs in a drawing room and sip
tea as I listen to someone
     at a spinet play Mozart"?
Enclosed in the world, we enclose the world, and
it's enclosed inside us until
we open. We'll bump into
every wall until we
go from world to
Creator of world, Who's
given us our world apparatus and sensitive
contraption for grasping the world, and
if we sight along His
cross-hairs in the
Unseen we should
see Him originating this
display.
He who
creates us as we
go.
Fly, bird and worm, and
man, hearts on the
optical throne.
Light
filling us to the brim.
In which to
see Him.
---
7/22/96 (from Miracle Songs for the Millennium)
Categories: Poems